How Can Chiropractic Treatment Help Text Neck?
How Can Chiropractic Treatment Help Text Neck?
Written By Smith Chiropractic on June 19, 2020
---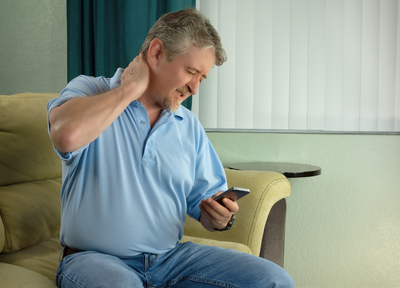 Text neck is a term that describes a cluster of painful neck and shoulder symptoms that are caused by looking down frequently or for too long. Recent studies have shown that 79 percent of adults between the ages of 18 and 44 have their cell phones on their person for most of the day.
The human head weighs about 10 to 12 pounds on average while the spine is in a neutral position. However, when your head is positioned forward at about 15 degrees, the neck sustains around 27 pounds. At 45 degrees, that weight increases to 49 pounds, and so on. This increased pressure and strain on your neck, primarily caused by texting or reading from a handheld device, is the most common cause of text neck.
The Symptoms of Text Neck
Neck pain caused by text neck can be a debilitating symptom, especially if you have lost your range of motion. Left untreated, your pain could become chronic or lead to other conditions, such as headaches, muscle spasms, or slipped discs.
The symptoms of text neck include:
Persistent pain in your neck and shoulders
Neck stiffness or a decrease in range of motion
Headaches
Neck muscle spasms
Tingling in your arms or hands
The Benefits of Chiropractic Neck Pain Treatment
Each year, over 35 million Americans receive treatment from a chiropractor. Chiropractic treatment options are non-invasive and offer relief from a variety of symptoms while improving your overall health.
While neck pain from text neck is common, you can find relief. Chiropractic neck pain treatments offer benefits such as:
Reducing inflammation
Pain relief without the use of over-the-counter or prescription drugs
Improved range of motion
Relief from neck stiffness
Receiving the Best Neck Pain Treatment in Colorado Springs
Text neck is a painful condition, but you don't need to put up with it. Chiropractic neck pain treatment options can help relieve painful symptoms and stiffness, allowing you to work on correcting your posture and improving your overall health.
Dr. Ammon Jacobson has been providing neck pain treatment to his patients for years. Using the Mckenzie method Parts A and B, an effective way of accurately diagnosing the causes of neck pain, Dr. Jacobson will create the best treatment plan for you. His patient-centered focus, passion for patient care, and vast experience have led him to become a cornerstone of the Colorado Springs community.
Do you need neck pain treatment in Colorado Springs? Contact us today at (719) 390-5404 or schedule an appointment online to get started.

Posted In: Adjustments Chiropractic Neck Pain Treatment Text Neck